Sometimes restaurants provide poor service and get negative write-ups they definitely deserve.
Other times restaurants don't do anything wrong at all, but customers just want to blame the world for their unhappiness, so they vent on Yelp or Trip Advisor. For example, one of our favorites that actually got a reply…
But sometimes a witty reply isn't enough, and there's a backstory.
In the case of one Dublin cafe, the owners found out exactly how twisted the backstory was behind their one-star review. 
It all started with a visit from a customer who was not happy with her order and took to social media to gripe.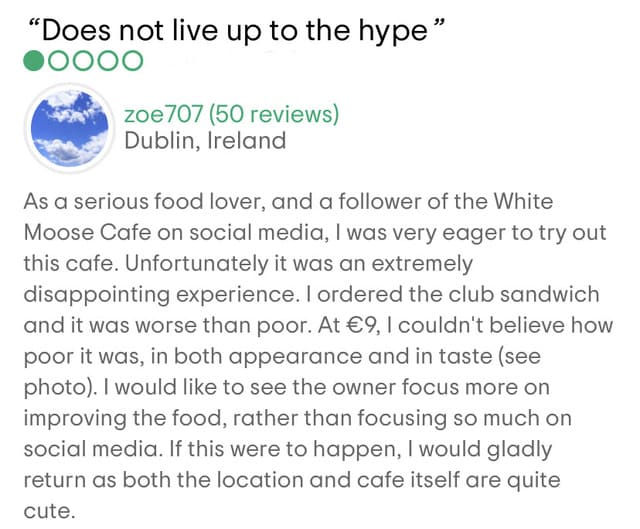 "As a serious food lover, and a follower of the White Moose Cafe on social media, I was very eager to try out this cafe. Unfortunately it was an extremely disappointing experience," the foodie writes. "I ordered the club sandwich and it was worse than poor…I would like to see the owner focus more on improving the food, rather than focusing so much on social…
Sometimes restaurants provide poor service and get negative write-ups they definitely deserve. Other times restaurants don't do anything wrong at all, but customers just want to blame the world for their unhappiness, so they vent on Yelp or Trip Advisor. For example, one of our favorites that actually got a reply…


"Karen's" One-Star Restaurant Review Backfires When Owner See It